Where To Stay in Mae Sai Thailand
Mae Sai in Chiang Rai is a sleepy border town with not much in the way of nightlife. However it is a great place to kick back and relax in the evening. Travellers often get together to discuss their experiences and plan trips around The Golden Triangle for the following day.
Excursions in the area include:
Trips to Tachilek, the town on the other side of the border in Myanmar which is an excellent place for shopping.
Trips to Chiang Kong, the border town with Laos where it is possible to visit the Opium Museum and take a day trip to Laos.
Trips to Doi Tung, where you can see the Royal Palace and visit the flower gardens.
Trips to Doi Mae Salong, the old Chinese refugee settlement which is a mecca for green tea enthusiasts. You can see traditional farming at it's best in Doi Mae Salong as the use of mechanised farming equipment is forbidden here.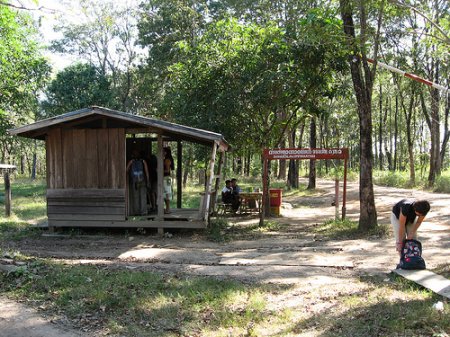 Where to Stay
Mae Sai has a few hotels and many budget guesthouses. At the top end, the most expensive and oldest hotel in Mae Sai is the Wang Thong Hotel. The Wang Thong hotel caters to a mainly wealthy Chinese clientele and has over one hundred rooms. They have free Wi-Fi and a great breakfast buffet.
Piyaporn Palace is only around 5 years old and offers exceptional value for money. Whilst I do not consider their breakfast to be a patch on the Wang Thong hotel breakfast their rooms are newer, more modern and exceptional value for money. On my last trip to Thailand I stayed here and negotiated the price to 500 Baht per night which is less than $20 for what I would consider to be a four star hotel (although I am not sure if they have a star ranking).
These are the only two notable "hotels" in the area, although those on a similar budget can find resort style accommodation in the foothills of the mountains and nearby areas, but I can not comment as I have not visited those.
Mae Sai River, also called Tachilek River depending on whether you are Thai or Burmese, makes up the border between the two countries. There are several guest houses along this stretch of river and the most notable of these is Mae Sai Guesthouse. This guest house is a number of bungalow-hut type rooms set amoungst lush gardens and really is more of a resort style accommodation than a typical guesthouse. The family who run it are very friendly and lovely people and their rooms, although chilly in the winter, really are some of the best in the area. Rooms here start at around 300 baht with hot shower.
We have a website for sending flowers and gifts. Based in Bangkok Thailand, our extensive florist network lets you order and send gifts to every corner of Thailand. Choose from many styles of bouquets, vase and basket flower arrangements. Add greeting cards, teddies and chocolates to your order. We act as an agent for most of the flower shops in Thailand, we are able to converse in English, German and French for the benefit of our foreign customers. We accept all major credit cards and can get your flowers sent anywhere in the Thailand at a moments notice.