The Dos and Don'ts of Traveling while Dating
The decision to take a trip together is a big step for any couple. However, most people get so caught up in the planning and packing, they don't realize how much traveling will test their bond. Before you run out and book non-refundable tickets to Bora Bora, read these Dos and Don'ts of relationship jet-setting.
Don't Surprise Someone With a Plane TicketYou may think booking a ticket for two to Fiji will make a nice birthday present, but it's not a good idea. Traveling interrupts a person's daily life, and is a big commitment of both time and money. The decision should be a consensual one. Springing vacation plans on your partner could make you look a little desperate.
Do Make The Decision TogetherThe desire to take off should be mutual. If one person can't wait to pack up and go, but the other is on the fence, wait till you are both on the same page. Also remember to work together to decide on a time a place that suits both of you. Don't drag someone to the beach when you know they love mountains. Plan it out together.
Don't Travel Together If You Just MetYou may think it's cute to be wild and impulsive, (and it is) but only to a certain degree. Taking a trip together when you have known each other for less than a month is like playing Russian Roulette with the future of your relationship. It doesn't matter how many hours of pillow talk you've shared. The two of you are still getting to know each other so don't do anything to prematurely ruin that delightful honeymoon stage.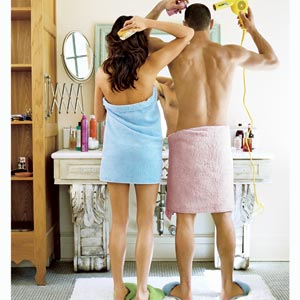 Do Wait Until Your Relationship Is SolidWait until the two of you have been together long enough to have developed a way to resolve conflict. Yes, this means getting a few fights under your belt before boarding a plane. Travelling pulls people out of their routines and comfort zones which can induce stress and create irritability. If the two of you have never tackled a problem, then the relationship is too fresh for a vacation.
Don't Plan A Long TripA common mistake couples make is scheduling a vacation that lasts too long. It may sound counter-intuitive, but remember-- you two are going to be with each other 24/7. After three straight weeks of being attached at the hip, chances are, you'll probably be working each other's nerves a little. Make sure your trip is long enough to make memories, and short enough not to get sick of each other.
Do Keep It Under Two WeeksShort and sweet tends to work best for romantic getaways. If you are not planning on staying in a metropolitan area, and will be in the great outdoors most of the time, this is especially true. Believe it or not, three weeks of doing nothing but laying on the beach does get old.
Don't Invite Your BFFEveryone acts slightly different with friends and partners. Its not a good idea to mix the two worlds in the pressure cooker of travel. If you have the kind of friends who like to tag along, make it clear that this is a trip for two. Letting friends come along will divide your attention, make you less mobile, and create difficulties finding lodging for extra bodies. Remember, the larger a travel party is, the more stressful it becomes. Don't let other people get in the way of your romantic getaway.
Do Keep It ExclusiveTake advantage of this time to get personal. The best trips build strong bonds and lasting memories so give yourselves some space. Every couple needs a little alone time now and then.
Don't Wing It
It may sound like fun to just pop outta bed one morning and say "Lets go to Costa Rica right now!" If you want to be spontaneous, make cupcakes for breakfast. Successful trips require development in advance.
Do Plan AheadIf you want to avoid cranky, stress induced arguments, then you need to make things as worry-free as possible. Research the country you are visiting and pack accordingly. Find out everything you can, from what the weather will be like, to the kind of stores that will be in the towns you pass through. Also, figure out a financial game plan with your partner. If you are going to a developing country, chances are your debit card won't work at the ATM. The absolute LAST thing you want is to be stranded in Nicaragua with no money. Don't forget about departure taxes! Avoid big time buzz kills by being prepared.
Don't Obsess Over an IdealSpoiler alert: Something will probably go wrong. Its just what happens when you travel. Don't freak out and deem the whole trip a total failure just because you had a tropical fight. Like I said, traveling is stressful, and requires a ton of planning. No vacation (or relationship) is perfect, so don't set yourselves up for failure by expecting everything to be flawless. Sometimes it's what goes wrong that makes the best stories.
Do Have Realistic ExpectationsSpending all your time together for days on end is bound to stir up a little friction, and you'll be disappointed if you think every second of your trip is going to be magical. If you miss a bus or get ripped off by a cab driver, don't take it out on each other. Use the obstacles that come up as opportunities to come together and find a solution.
The most important thing to remember when travelling with someone is have their back at all times. Showing your unconditional support goes a long way. If you heed this advice no matter what, you will return with a stronger relationship and a deeper appreciation for each other.
<>Kristen Bright is the social media consultant for Instant Checkmate. Instant Checkmate is a personal criminal background check provider, and does not perform employment screening of any kind.