London's Best Budget Indian Eats
Indian food always used to be cheap and cheerful in London, thanks to the city's large subcontinental community. Nowadays though, many Indian restaurants have become gourmet diners and the 'cheap' bit has gone out of the window.
But if you know where to go, you can still eat cheaply Indian-style. However to do so, you might have to forget the typical curry and rice and go for something a bit different; for instance, a mixed grill.
Lahore Kebab House in the East End will cost you less than ten quid; you can get a mixed grill, or lamb chops, and though if you want an alcoholic drink you'll have to bring your own, they don't charge corkage. Tayyabs also has a great mixed grill. The downside? Both these places are incredibly busy at peak times, so you may need to queue.
Kati Roll Company in Poland Street does things differently – its speciality is stuffed rolls, either paratha or roti, with a variety of fillings ranging from scrambled egg to chicken tikka or grilled cheese and pickle. You'll get a roll for £3.50 or so.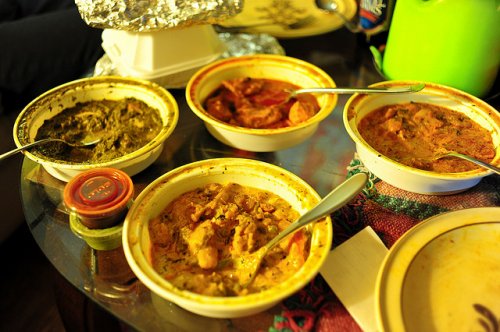 Or go vegetarian and head for Govinda's, which is attached to the Hare Krishna temple in Soho. You get an unlimited thali for under £8 last time we checked, with numerous vegetable and dal (lentil) dishes as well as a tempting selection of sweets, and mango lassi to drink. It does get busy at lunchtime – as you'd expect! The Hare Krishnas do have an even better bargain though – if you go to the midday darshan and stay for the talk afterwards, you'll get lunch given you, though donations are always welcome. Or you can help to clean up afterwards.
Tooting is a little way from central London but it's worth taking the Northern Line just to visit Dosa n Chutny, which does takeaway lunches for less than five quid. It's distinctly southern Indian and Sri Lankan, rather than featuring the northern cooking better known in the UK, with paper-thin dosas, idli (rice cakes), and coconut chutneys, and a fair amount of chili.
Equally distant from the centre of London is Five Hot Chilies, a little Punjabi cafe on the Harrow Road. You'll find a big choice of veggie options as well as meat dishes, and food is a tad hotter than at more westernised restaurants, as you might expect from the name. Dishes are cheap, but you'll probably end up eating rather a lot of them.
The Indian YMCA in Fitzroy Square is a home for many Indian students and its canteen is open to non-residents, with both veg and non-veg on the menu. It's a basic canteen, not long on atmosphere, but you'll get a good, cheap meal here – and it's one of the few places in London where no one will bat an eyelid if you decide to eat your meal with your hands.
But for me, the best budget eat of all though is the little kebab shop on the bridge just opposite Southall railway station. You can get yourself a small kebab and a drink and still have change out of a fiver. And I tell you what, their kebabs are damn tasty!
Photo credit: eddie.welker
If you want good access to all the above budget restaurants without spending a fortune on travel or accommodation, it's advisable to choose a cheap but central hotel like Tune Kings Cross, one of the newest budget Kings Cross hotels.