The Top 5 Theme Parks In Spain
The allure of visiting Spain lies in exploring its exciting culture, meeting its vibrant people and, of course, experiencing a world outside of our own. Part of doing this is seeing how similar concepts translate into different experiences based on where you are in the world.
While none of us are necessarily new to the concept of theme parks, visiting one, or more, in another country can certainly broaden our horizons. It can also help us tick off another task on our bucket lists. Along my travels, I've found that every experience is different for me, particularly in terms of what type of rides each theme park has, as well as the side offerings. These include marquees, theatrical shows and food courts. As a result, I've compiled a list of the top 5 theme parks in Spain that I've visited, which will also give you a taste of what you can expect.
Terra Mitica
If you're out with friends or older travel companions, in search of an adrenaline rush and a day in the sun, you'll get your money's worth at Terra Mitica. Not only does the park boast more sunlight (per annum) than any of the others, it's also a place to enjoy a number of 'high flyer' rides. The theme of the park focuses around old Mediterranean myth and legend including 5 zones dedicated to Egypt, Rome, Greece, Iberia and the Islands respectively. Plus, you can enjoy the Tarantula – the circus that runs alongside the park's rides.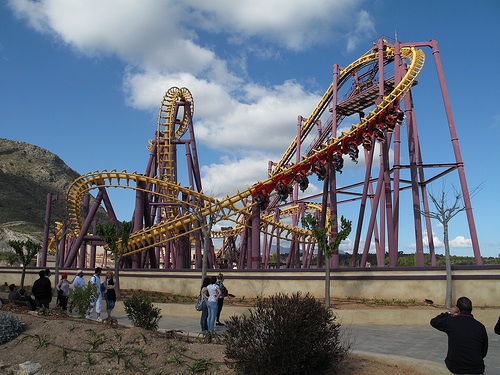 Warner Brothers Movie World
One of the commonalities that we share on a global level is an appreciation for cinema and the arts. Famous production studios, such as Disney or Warner, have found a place across the globe in family friendly theme parks - and Spain is no exception. Here you can explore a number of themed areas that include superheroes, old western themes and 'haunted' attractions for a good old fashioned scare. You'll love spending a day out with the family seeing your favourite movie characters.
Port Aventura
This park is situated approximately an hour outside of Barcelona by car. This is the perfect addition to a holiday in the Mediterranean resort where you will also find themed hotels, as well as the Caribe Aquatic themed park. This will offer you a holiday of pure adventure, with enough things to do in the resort to make your holiday truly memorable.
Isla Magica
Perhaps a more 'authentic experience' can be found at the Isla Magica where you can specifically explore Spain's past, to the backdrop of Spanish pioneers in the new world. Found in central Andalucia at this park, you'll also have slightly more themes to choose from than the average 5. Within 6 zones, every area, from Sevilla (America's Gateway) to Amazonia provides a slightly different experience to some very westernised theme parks in the country.
Sioux City
This is truly a hub of old Wild West enthusiasts who flock to the park to enjoy themed rides, children's dress up, family shows, gunfights and can-can girls. All of this happens in the saloons and across the park so perhaps is best for older children, parents and other adults. All in all, visiting any of these parks (including Sioux City) is a fantastic way to make the most of your holiday in Spain.
Citations:
If you are planning on visiting any of the theme parks described above check out the Owners Direct villas in Spain before you travel to ensure your accommodation is as amazing as the experiences you are sure to have.