Here's What to Plan (and What Not to Plan) When You're Going on a Road Trip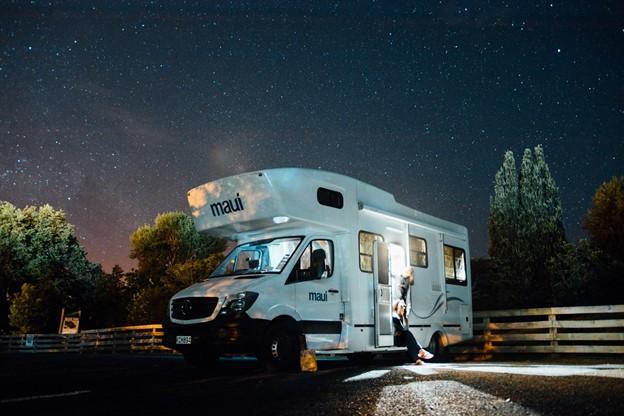 The following is adapted from Travels with Hafa.
When I decided to take a three-week road trip through the Pacific Northwest with my dog Hafa, I started by planning everything. I downloaded all kinds of travel apps and bought a mobile hotspot so I could work on the move. I packed skis, a chessboard, a guitar, and I even wanted to fit in my paddleboard before I realized it just wasn't going to happen. Everything I could think of to bring, I brought.
I'm not saying that any of that was the wrong approach. That road trip ended up being one of the most memorable experiences of my life. But some of the best parts of my trip had nothing to do with all the planning I had put in beforehand. There were plenty of occasions when I was better served by just letting go and staying open to possibility. Here's what I learned about what you should plan and what you should leave wide open when you're going on a road trip.
Transportation
Hands down, you need to plan your transportation, and your decision should hinge on four primary factors: cost, size, comfort, and mobility.
For people looking to stay within a tight budget, your personal vehicle is a good option. Remember though, you will either have to pay for accommodation every night or bring a tent and be prepared to rough it. Also, if you're looking to travel with a large pet or other people, a car will start to feel overcrowded really quickly.
Since it was just me and my dog, I considered renting a Sprinter van. It has more room than a car; there are some cool, decked-out vans available now, and it's one step up in comfort from a more rugged tent experience.
Ultimately, though, I wanted a nice big bed, kitchen and a shower, so I rented an RV. In the era of COVID-19, RVs are also a great way to feel secure in your own, private space while traveling.
There are some downsides to the RV experience, though. While you have a portable hotel, you will pay a lot more for gas. Also, longer rigs present parking limitations, and there are many remote campsites you can't reach in a large motorhome. That's the benefit of using something like an Airstream trailer. You can tow it, park at a campsite, unhitch, and navigate tougher roads in your main vehicle.
At the end of the day, it's best to start by setting a budget and ranking your priorities between comfort, space, and mobility. From there, you can find the vehicle that suits your needs.
Your Itinerary
When you're taking a road trip, it's best to plan your itinerary loosely. List a few major destinations you want to hit, but don't go overboard with planning each day. Stay flexible. If you have a specific hotel or campsite booked every night, you'll always feel like you're on the clock. You won't be able to enjoy the little attractions and diversions that make up a large part of a road trip's pleasure.
When you stop in places, leave yourself plenty of time to walk around, soak it in, talk to locals. Leave room to explore and go with your gut. If you wake up in a beautiful place and decide you want to stay an extra day to hike, then do it!
Sadly, hardships can also be the reality of the road. You never know when your generator's going to go out or when a road will be closed. It's best to take your trip as it comes, otherwise, you'll be more stressed than necessary. I recommend figuring out an ideal amount of miles to cover each day to reach your major destinations in time, and then keep your daily goals loose within those basic boundaries.
Here's what you should plan. Bring a real map. There will be a point when your GPS fails or your cell phone is out of range, and you don't want to get stranded. If you have space in your vehicle, I also recommend planning for possible pastimes. If you know you'll be going through mountains, toss in some skis. If you know you'll have some down time on the road, bring some board games or a guitar. That tiny bit of planning will make it much easier for you to just go with the flow and take things as they come once you're on the road.
Your Company
It might sound strange, but you don't need to fully plan your road trip company. You'll encounter a lot of people as you travel, and you should be open to meeting, talking with them, and possibly even traveling with them. RV campsites are great places to grab a beer with someone new, and I recommend talking to locals in small towns to get the scoop on the best restaurants and camping sites.
One of the greatest joys of a road trip is having the opportunity to discover new ways of living and thinking. Take the chance to meet people in the small towns along the way. If you're traveling alone, this can be an especially good way to break up the long stretches of driving and solo camping.
In my case, three weeks was a long time to be away from home, and a lot of my friends couldn't join me for that long. That's where planning did come in handy. My brother and I made arrangements so he could join me for one leg of the journey. He flew back home after a week, and I continued onward.
Your trip doesn't have to be all-or-nothing. You can travel solo, see friends, or meet friends partway. It's best to think of your road trip as a multi-stage, flexible vacation.
There's No One-Size-Fits-All Solution
Ultimately, every road trip is different, and your trip will be tailored to your specific needs. If you're traveling with kids, it's going to look a lot different from my solo exploration. If you're traveling for three days, you'll have a different budget than someone going for three months. Your road trip needs to suit your objectives, budget, and dream to-do list.
No matter what your trip looks like, though, I recommend staying flexible. One of the best parts about driving across the country is the journey itself, and you can't control every aspect of that. Nor should you! Let yourself be surprised and stay fully present in whatever place you're in.
For more advice on planning for a road trip, you can find Travels with Hafa on Amazon.
comments powered by

Disqus