The 5 Best Comedy Clubs in NYC
Most people who are looking to enjoy the nightlife that NY has to offer automatically think of music, dancing, plays or dining. It's amazing that so many people have no clue that this wonderful city is home to quite a few awesome comedy clubs. If you are looking for the ultimate New York lounge with comedians, both known and up and coming ones, you will be disappointed because there are loads of comedy clubs that are incredible. No single club is the ultimate; they are all great in their own way.
The Stand Up Comedy Club
By far, the most well-known lounge New York has to offer comedy aficionados is the Stand Up Comedy Club on the Upper West Side. Whether the night that you go has headliners or comedians that you've never heard of, you are sure to have a blast in this old fashioned, penny brick New York lounge. Of course, there is a minimum purchase of two drinks but who wouldn't need to drinks with all of the hilarious material you will be hearing. The restrooms have a bit to be desired as they are located downstairs but it shouldn't be too big of a deal if you're not wearing stiletto heels!
The Comic Strip
The Comic Strip has been the starting point for more comedians than you could begin to imagine. This is one of the most hilarious, nearly pee in your pants comedy clubs that you could visit. The entertainment is always spectacular and most of the comedians interact with a few members of the audience, which is always a funny thing. The Comic Strip is a must for those seeking a great time in NYC.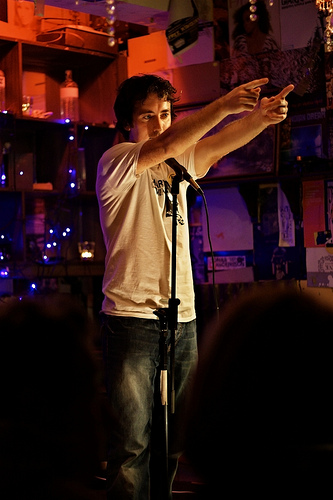 Gotham Comedy Club
The Gotham Comedy Club is by far the most elegant comedy lounge New York has to offer. When you walk into the lobby, you will feel like you have been transported back to the 1920s. The classy and elegant style is enough to wow the most picky person but once you take the time to look at all of the cool pictures on the wall, you will feel like all of the comedians of the past are standing right beside of you. The red, luxurious interior room will relax you while you are entertained by some of the most incredibly funny comedians on earth. Just because there aren't famous ones on the lineup, doesn't mean that one won't show up and do a stand up performance just because they were in the area. The Gotham Comedy Club is a must see New York lounge.
Broadway Comedy Club
Unless you've resided under a rock for most of your life, you had to have heard of the most famous comedy lounge New York boasted in the past. Yes, that club was called the Improv and it is now known as the Broadway Comedy Club. It is a relatively small New York lounge and because many of the comedians actually perform improve comedy, don't freak out when they start messing with people in the audience. Here's a bit of advice, never get up to use the restroom while a comedian is on the stage; this will make you fair game for a wide range of jokes.
Comix
Comix is one of the most affordable and incredibly hilarious comedy clubs in the city. It's nestled between cool bars and music joints offering the sounds of Jazz. Depending upon the night, you could find headliners that you've seen for years or up and coming new comedians that will have you rolling on the floor laughing like a madman. Comix is a really place for a fun and entertaining evening in the city.
Christian F. is an experienced travel writer and New York City resident. He wrote this article about New York City lounges and nightclubs.