6 Places to Go on a Summer Hike
Warmer weather means more people get outside. The sun is shining, temperatures are nicer and you find yourself generally wanting to spend time outdoors. Being outside during the summer is good for you, mainly because it increases your body's supply of vitamin D. Hiking is a great way to do more outside during the summer. Here are the best places to go on a hike this summer!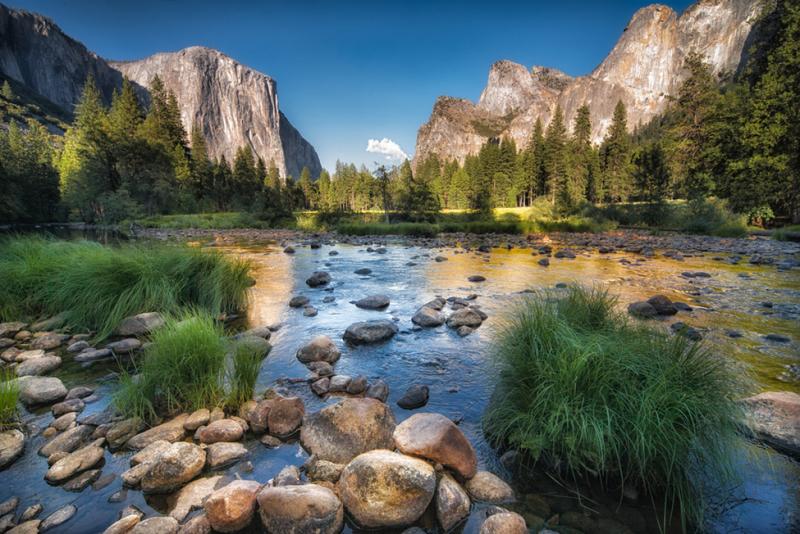 Source: Francesco Ferrarini/Shutterstock.com
1. Yosemite National Park, California.
Hiking in Yosemite is on most hikers' bucket lists. Yosemite even boasts the tallest waterfall in North America, with a drop of over 2,000 feet. Bring your favorite workout accessories along to make this doable hike even more efficient! The lower trails are paved, which is perfect for people who experience mobility issues or are new to hiking as a whole. You can't go wrong with the beautiful scenery in Yosemite National Park!
2. Glacier National Park, Montana.
Summer is the perfect time of year to hike in states like Montana because the weather is breathable but not overbearing. Plus, you don't have to worry about dangerous amounts of snow and ice on the trails or even mudslides from when the ice melts. Depending on when in the summer you go, you might be able to catch some of the last remnants of the winter's snow fall on the tallest peaks. They'll make for amazing pictures!
3. Acadia National Park, Maine.
Another northern spot, Acadia National Park is a great choice for anyone who wants to visit a northern area during the easier summer months. Acadia boasts beautiful mountain views, mainly from the rocky cliffs of coastal Maine. Walk along the beaches and enjoy optimal temperatures during the summertime at Acadia National Park. It's also a great park to visit if you want to do more than hiking. Acadia lends itself to fun opportunities to cycle or sail, especially during the summer.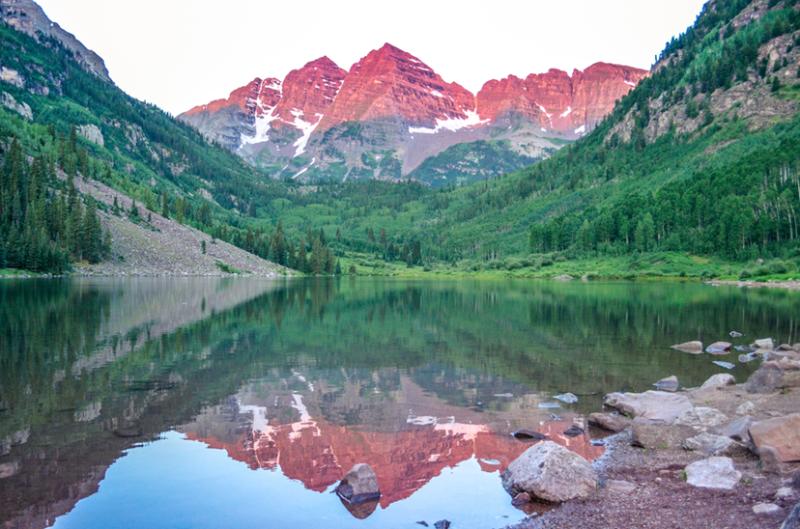 Source: Baylor de los Reyes/Shutterstock.com
4. Crater Lake, Colorado.
A more moderate hike, Crater Lake is a beautiful, picturesque hike that is perfect for any avid hiking enthusiast. During the summer, it can get pretty busy, but hiking during the week instead of on a weekend can alleviate some of those congestion concerns. An almost four-mile hike in the Colorado Rockies, Crater Lake is a great summertime hike because you get the opportunity to see how beautiful the lake is once all the snow melts off the tops of the mountains and into the lake basin. Of course, that means the lake gets mostly dried up toward the end of the summer, so it's always best to visit early in the season to ensure you can see the lake at its highest and most beautiful.
5. Jefferson National Forest, Virginia.
Known colloquially as the Devil's Bathtub, Jefferson National Forest is great to visit during the summer. Sure, Virginia heat during the summer can be pretty muggy and humid, but the ample shade from all the trees in Southwest VA can be a great way to keep cool. Plus, the end of your hike is rewarded by a refreshing and cool dip in Devil's Bathtub, which doesn't usually get warmer than 65 degrees! It's immensely popular in Virginia, but it's the perfect hike for a muggy, summer day. There's even some rope swings so you can bring friends and family along to take turns jumping into the swimming hole!
6. Arches National Park, Utah.
Utah is a great place to hike during the summer! While it can get blisteringly hot, the nighttime cools down greatly. Plus, with the dry heat, you don't have to stress about humidity. Instead, focus on great SPF, bringing lots of water and electrolytes and also heat-resistant accessories and outerwear, such as durable silicone rings to wear on your hike to stay cool and comfortable. While the park requires reservations during the busy season from April to October, the National Parks Service makes it easy to complete the process well in advance of your visit. On your hike, you can traverse a variety of different trails, each varying in distance and elevation. Some are more difficult than others, but most are doable for the average hiker. Just make sure to bring lots of water and remember to stay off the arches for your safety!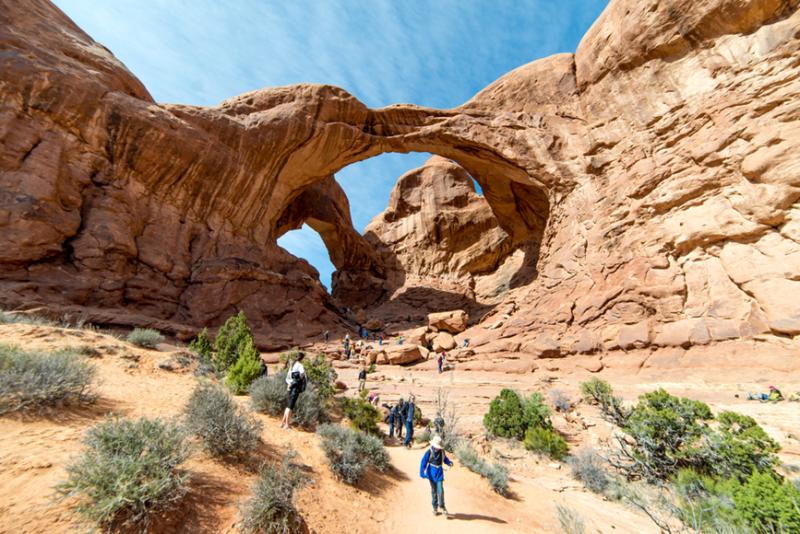 Source: Andrew Repp/Shutterstock.com
Hiking Essentials
Whether you're going on your first hike or your 500th, you don't want to forget the essentials. Here are some items you'll want to make sure you have when you go on your hikes!
Hiking Boots. Proper footwear is essential for hiking. If you're going somewhere with lots of water, a pair of water shoes is also essential. Make sure you pack an extra pair of socks too.
Sunglasses. Protecting your eyes from harmful UV rays will make your hike much more enjoyable. Sunglasses are an essential part of your hiking gear because they protect your eyes and give you some shade from the brightness. Depending on the color of your shades, you may notice that things appear clearer or more in focus while outdoors.
Hats. Hats of different shapes and styles are great to have as part of your hiking gear. Many people enjoy wearing bucket hats while hiking because they provide shade to both your face and your neck while simultaneously protecting your scalp from the sun's harmful rays. Ball caps are also great headgear to have on hand as part of your hiking essentials, especially if you don't already own a bucket hat.
Tall socks. Some of the many risks of hiking are insects and wildlife. Tall socks can help to prevent or lessen the effects of ticks, mosquitoes or any other flying insects that could potentially be harmful. They also protect your legs from harmful plants, such as poison ivy. Add some comfortable, thick socks to your hiking essentials!
There are lots of places across the country to go for a refreshing summer hike. No matter what part of the country you're hiking in, there are a few things you'll always want to have on hand to ensure your hike goes smoothly.
---
More to Read: