5 Ways Cruise Lines May Try to Rip You Off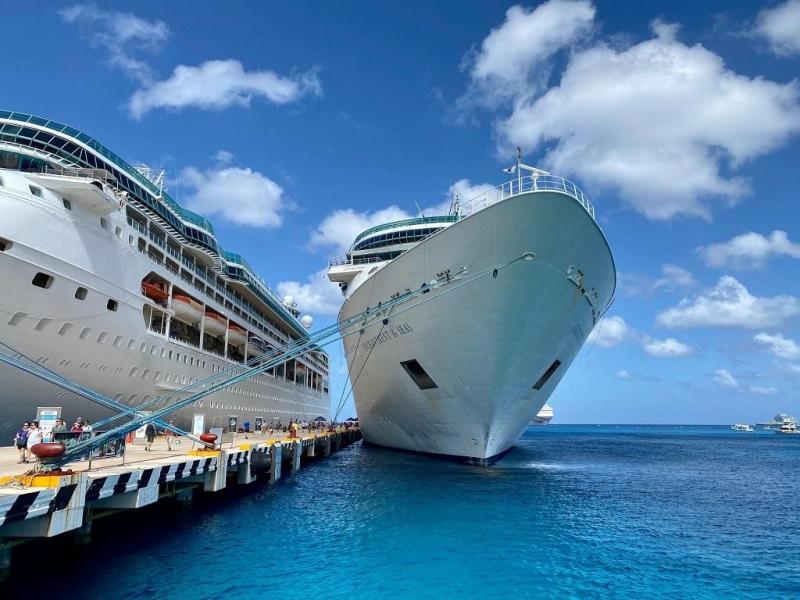 There are a myriad of ways a cruise ship company may try to rip you off on your vacation, but there are a handful of methods to round out their bottom lines that work every single time. Keep an eye on these tactics and look for alternatives. There's always a workaround to help you keep that hard-earned cash in your pocket, not theirs.
Wi-Fi and Cellular Data Services
If you're not paying close attention, you can literally double the cost of the voyage in a few days through phone services. Since there are no cell towers at sea, cruise lines rely on expensive satellites to offer their guests top-of-the-line wi-fi and cellular connectivity while onboard.
But these services are extremely expensive, and the costs can quickly add up. If you want to make a phone call or send a text message on your mobile phone, you'll have to connect to the ship's cellular service. Your carrier will view these costs as international roaming and charge you accordingly. The prices may vary, from 40 cents to $2.99 per minute depending on your carrier and cruise line.
What's more, cruise lines' cellular services do not include data services, namely internet access, so you will need to purchase a wi-fi plan for that.
Usually, you'll be better off making a phone call or sending text messages through the cruise ship's wi-fi. This one's the cheapest way of staying connected to your loved ones if going social media cold turkey for the duration of the cruise is not an option.
Seasoned travelers just put their devices on airplane mode until they hit a port and use the free wi-fi at local venues wherever possible. Others pay for wi-fi in the middle of their cruise to check in on their family. Most cruise lines' wi-fi data plans are tiered, but do pay attention to the fine print - as the cheapest plans do not contain critical services such as unlimited Internet access or in-ap calls (which means that you will not be able to phone calls via WhatsApp, iMessage, or Facetime.)
Shore excursions
Cruise line's shore excursions can set you back many hundreds of dollars over a week. Fortunately, there are cheaper and more convenient alternatives with third-party operators. If you decide to book an excursion with a third-party, you can save up to 40% of the ship excursion's price.
What's more, when booking a shore excursion with a third party, it's very likely that the tour group will be smaller and better organized. There are also tours by locals in nearly all major ports, which may give you access to tidbits of culture and insider tips from local guides.
Also, many locals do not require a standard fee as they would rather live off donations as a big thanks for their services. You will be also supporting the local economy in this way.
The only reason you should be booking a cruise line excursion is your peace of mind that the ship will not leave without you if the excursion runs late. If you're going for a third-party shore-excursion operator, double-check that the shore excursion times match the cruise ship's time.
Drinks
Another sneaky way a cruise line may try to rip you is through refreshments, such as bottled water, and alcoholic drinks. While most cruise lines limit the amount of bottled water you can bring on board, keep in mind that all the water provided on a cruise ship is safe to drink. And it is free.
The water on a ship has been filtered and is frequently tested to meet some of the most stringent international standards. There are horror stories about wastewater being filtered and turned into tap water, but those are not true. All cruise ships are required to treat their wastewater and safely dispose of it into the sea.
Also, most cruise lines have strict limits on the amount of alcohol you can bring on board. While some will allow you to bring only one or two bottles of alcoholic drinks, these should be packed in your carry-on and may be subject to a corkage fee of up to $25 if you consume them in a shipboard restaurant or other public venue.
Some cruise ship companies allow their guests only to bring wine or champagne on board, banning beer and other alcoholic beverages altogether.
SPA Treatments
Onboard SPA treatments are insanely costly. A single 80-minute massage session could cost you anything between $150 and $250 on a regular cruise line. You could get a massage onshore for a fraction of the price. What's more, most SPA employees are trained to sell you company stuff, so expect some hard-sell tactics at the end of the day.
Onboard shops and medical facilities
Everything that is sold at a shipboard shop is usually overpriced unless they have a sale or a special offer. Compare prices online or, even better, make your purchases onshore. Also, be wary that many souvenir shops near ports are owned by cruise lines, which means that you risk being ripped off there too.
Steer clear of shipboard medical facilities as well since they are crazy expensive. Everything they do, sell or prescribe at a shipboard medical center or pharmacy is overpriced. Unless you have a life-and-death medical emergency, use a private walk-in medical center on land whenever possible.
If you got injured or sick on board, your travel insurance policy should cover all the costs. But if you don't have insurance, any medical services and treatments will be out-of-pocket expenses unless the accident was not your fault.
According to William Pintas and his team of seasoned cruise ship injury attorneys, you could sue a cruise line and get them to pay for your injuries if the accident was caused by gross staff negligence. Such accidents include slips and falls caused by slippery floors and staircases, food poisoning, permanent disability caused by poor design or equipment that wasn't supposed to be there, and so on. If medical expenses are sizable, it is worth talking to an attorney.
To Wrap It Up
While on a cruise vacation you might be tempted to splurge on services like SPA treatments, souvenirs, and shore excursions. However, keep in mind that there is always a cheaper and often more convenient alternative to what a cruise line has to offer. You could later be spending all those savings on an unforgettable onboard specialty dining experience... or two. Put your money to work where it really matters.