10 Perfect Places For A Romantic Date In Munich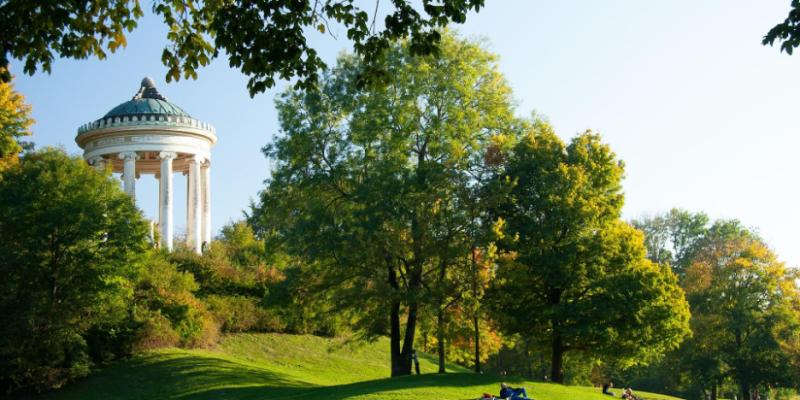 What can be more perfect than a romantic getaway with the love of your life? Spending time together away from ordinary life and the worries and responsibilities of the world is a sure way to rekindle the spark and bask in the love you have for each other.
The German city of Munich is a wonderful place to travel for many reasons; from its unique infrastructure to the many amazing places you can explore. For a couple on a romantic getaway, the Bavarian capital offers a wealth of activities to do and places to go to keep the flame of love burning. Read on for 10 places you and the love of your life can go for a romantic date in Munich!
English Garden
If you and your partner love to stop and smell the roses (literally and figuratively!), you'll thoroughly enjoy a date in Munich's famous English Garden. All throughout the year, the garden is a beautiful, sweet-scented world of colour that makes the perfect backdrop for a romantic date in Munich.
It's the best place to go for a calm, quiet date where you can focus on talking to your darling whilst surrounded by the beauty of nature. Besides a leisurely stroll through the garden, you can do lots more there like paddling, enjoying a picnic with your favourite snacks, or visiting a beer garden by the water and getting a cool, refreshing drink.
Bavarian Public Observatory
Munich's Bavarian Public Observatory is one of the largest in Germany, founded in 1947. The observatory has a planetarium offering an incredible view of the endless night sky, as well as exhibition rooms, workshops, and a library.
What better way to spend an evening than stargazing next to your partner as you discover the infinite nature of the universe. As you look up at the sky, the rest of the world falls away until there is nothing left but the beautiful twinkling gems in the firmament - and the one standing right beside you!
Astor Cinema Lounge
Located at the hotel Bayerischer Hof, the Astor Cinema Lounge turns movie night into a whole new experience. Comfort is the main highlight there, thanks to the luxurious lounge sofas that you and your partner can snuggle up on as you settle in for your movie.
You can even request a drink from the comfort of your seat and never have to miss a single scene from your movie or leave the warm comfort of your partner's embrace for a refreshment. Once the movie begins, service stops so you can enjoy watching undisturbed.
Schlosswirtschaft Schwaige
A candlelit dinner is a date-night classic. Thanks to the Schlosswirtschaft Schwaige located in the south wing of Nymphenburg Palace, you can enjoy this traditional romantic date in Munich with a twist.
The experience is simply enchanting, from the castle setting to the romantic ambiance. The dinner includes a scrumptious 3 to 5-course meal of culinary scrumptiousness. Bookings for candlelight dinners here are available from Wednesday to Sunday, giving you the perfect place to get through the mid-week slump or close out your week.

Image source: Müllersches Volksbad
Müllersches Volksbad
Take relaxation to new heights with a romantic date in Munich at Müllersches Volksbad, a popular wellness centre featuring an art nouveau design. Here, couples can enjoy a Roman steam bath or a Finnish sauna with colourful lights that add sparkle to the ambience.
Besides relaxing in the warmth of the sauna, there's also a pool where you can take a few laps in the warm water. Or, you can enjoy a refreshing dip in the cooler pool and partake in some sporting activities.
Alte Pinakothek Gallery
If you ane your partner love art, the Alte Pinakothek Gallery is the perfect place for a romantic date in Munich where you can explore the world of art. The gallery holds over 700 artworks, including masterpieces by Da Vinci, El Greco, and Rembrandt.
The Alte Pinakothek is one of the oldest art museums, founded in 1836 by King Ludwig I of Bavaria. As such it offers the perfect combination of art and history, giving couples a double experience in one.
Olympiaberg
For couples seeking an adrenaline rush, there's nothing more romantic than a hike up Olympiaberg. The climb might be a bit tiring but it is certainly worth it. Especially when you get to the top and lie down next to each other to rest while you take in the glorious view!
It's the perfect place from which to see the skyline of Munich, or watch the sunset while you relax with a bottle of wine as you celebrate getting to the top. Sharing such an adventure is bound to bring you closer and give you amazing memories to take back with you once your romantic getaway is done.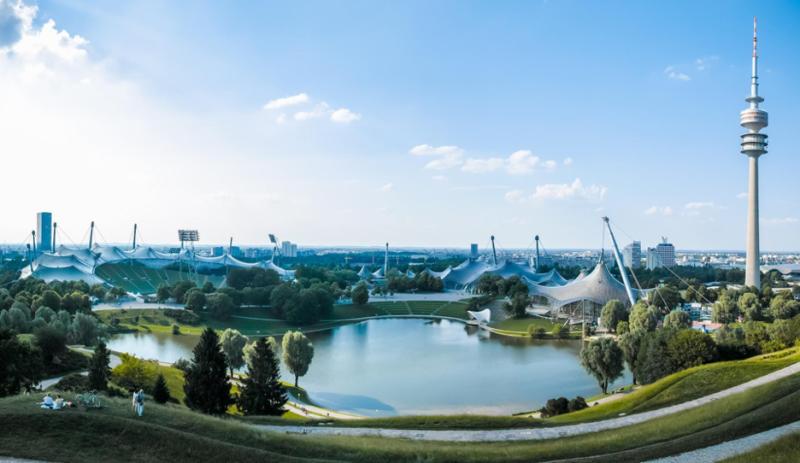 Image source: Unsplash
Flying Fox (Olympic Park)
Joy and adrenaline combine at the Flying Fox, a zipline that gives you wings. As you fly across the Olympic Stadium, you'll not only enjoy the thrill of soaring almost 40 metres above the ground, but also the glorious view from up high.
Running almost 200 metres in length, this zipline is truly a challenge for the brave! Once you fasten your harness, you're in for a thrilling adventure with the ultimate adrenaline kick that you and your partner won't soon forget.
Munich Residenz
An impressive structure, the Munich Residenz is a grand building that's sure to take your breath away. You can spend hours there, deeply immersed in the history of the place through the many rooms in the palace, the museum, ancestral gallery, and beautiful gardens.
Within the rooms, you'll find antique furniture and tapestries dating way back to the Renaissance and Baroque eras. An afternoon exploring the palace and all the history it holds is the perfect romantic date in Munich that combines timeless history and elegant tranquillity.
BöseBrezn by Robinson
Cooking with your partner is an intimate experience that lets you express the love you have for each other through delicious food. And on that note, a unique, but romantic date in Munich that you're sure to enjoy is taking a cooking class together!
There are lots of classes to choose from, hosted by locals and chefs around the city. One example is the BöseBrezn by Robinson, a Bavarian pretzel baking class where you can create special memories and learn some awesome pretzel making skills to take back home with you. The glazed, salted treat goes great with a beer too so after class, you can take your baked treats with you and wash them down with a glass of your favourite tipple.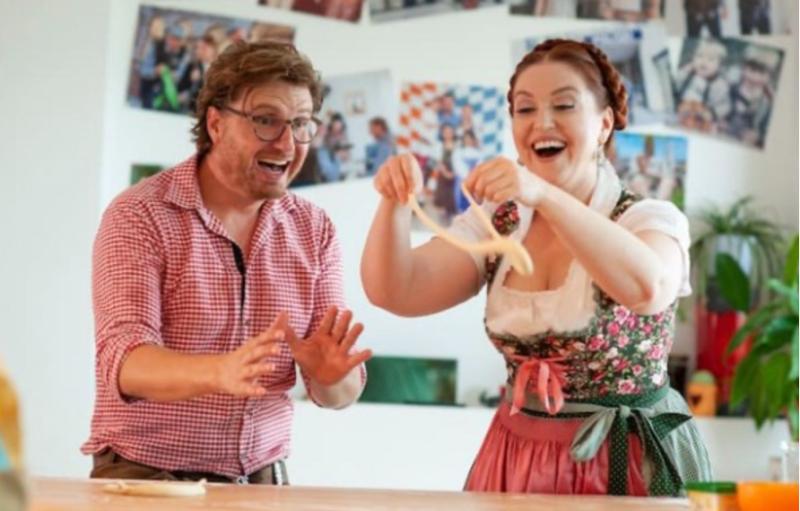 Image source: BöseBrezn by Robinson
Final Word
There are no limits to the wonderful things you and your special someone can do together while you're in Munich! Even the simplest things can turn into the most romantic date in Munich, simply because you're spending time with the love of your life doing something you both enjoy and will treasure forever. With a few simple travel hacks, you can have the ultimate romantic getaway in the beautiful Bavarian capital.
Top Tip: Choosing a place that's central to everything you'd like to explore is one top travel tip for a successful romantic break. KING's Hotels, for example, are in the heart of Munich and offer luxurious extended-stay hotel apartments, as well as free access for guests to their co-working cafe, the Focus Lounge. What's more, the boutique hotel group is currently offering a 10% discount at checkout with the booking code KNG2023 to make your luxury stay even more affordable!
Now check out these 5 Budget-Friendly Romantic Getaways in the Caribbean!
Featured image source: Unsplash
---
More to Read: