Top 8 Must-Visit Pigeon Forge Attractions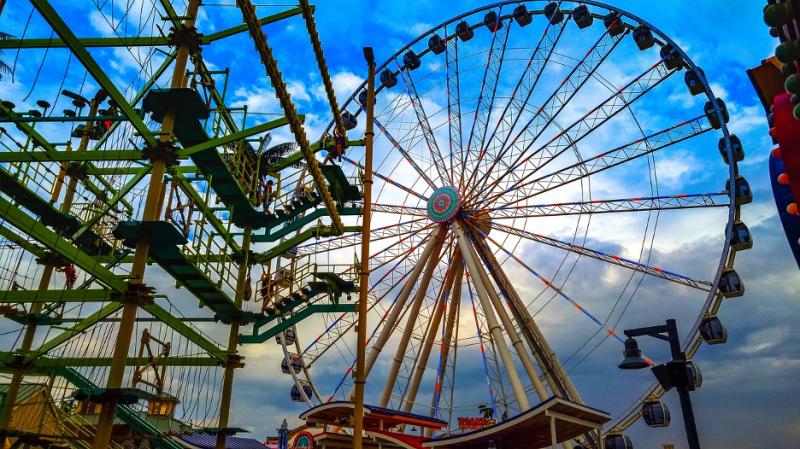 Hidden in the verdant hills of Tennessee's Great Smoky Mountains, Pigeon Forge presents a captivating blend of stunning natural landscapes, thrilling entertainment, and rich Appalachian history. Its reputation as a top vacation destination lures over 11 million tourists annually with a unique medley of things to see and do.
Whether you're an adrenaline junkie, a history enthusiast, or a committed lover of the outdoors, Pigeon Forge's captivating charm guarantees an unforgettable escape. So, get ready as we set off on a journey to explore the top eight must-see sights when you're visiting Pigeon Forge.
Dollywood
Set off on an adventure in Dollywood, a theme park peppered with Southern charm. The influence of co-founder and country music star Dolly Parton sings through its vibrant shows.
Thrilling roller coasters cutting through the air and water rides that drench you with excitement add to the park's exhilaration. Yet, Dollywood is more than just an amusement park—it's a celebration of Appalachian roots.
Skilled artisans keep traditional crafts alive, turning simple materials into beautiful works. Educational exhibits offer additional insight into local heritage, giving visitors a deeper understanding of the area's history and customs.
The Island in Pigeon Forge
Located in Pigeon Forge, The Island thrives as a hub for shopping and entertainment. Bursting with various captivating activities for everyone, the Great Smoky Mountain Wheel is a stand-out feature.
It gives visitors stunning 360-degree views of the surrounding picturesque scenery. Choosing nearby lodging is a smart move for those drawn in by the bright lights and vibrant atmosphere. Planning your stay in Pigeon Forge strategically gives you easy access to The Island and other local attractions.
This clever planning lessens travel time, allowing you to cherish more of your holiday. With its close distance to welcoming accommodations, The Island is a top consideration for visitors planning an evening filled with joy and amusement.
Titanic Museum Attraction
Stepping into Pigeon Forge's Titanic Museum is like boarding a time machine. Visitors dive into a narrative over a hundred years old, reliving the Titanic's splendor and sorrow. This museum is not just a storage space for historical relics; it's an adventure into yesteryears.
The museum proudly houses various genuine Titanic items, each echoing its own story. Over 400 articles are included in the exhibits, which take up 20 galleries. Here, you can stroll on the grand staircase, touch an actual iceberg, and experience the icy dread of that ill-starred night.
Moreover, the museum extends a heartfelt homage to the unfortunate passengers and crew. It gives you a chance to trace their lives. This journey is more than educational; it's an emotional trip that transcends the confines of a typical history lesson.
Great Smoky Mountains National Park
Welcome to the Great Smoky Mountains National Park, a haven for nature enthusiasts. This serene sanctuary provides a break from city life. It opens up an array of hiking trails for all skill levels, meandering through lush forest slopes, alongside babbling brooks, and across sunlit glades.
A variety of wildlife calls this park home, providing plentiful chances for animal sightings. Several campgrounds dot the park, perfect for those who want a peaceful night under the stars. So, if you're chasing challenging hikes, tranquil picnic spots, or an unforgettable camping experience, this park caters to every outdoor fancy.
The Old Mill
The Old Mill, a lasting piece of Pigeon Forge's history, sits right in the city center. Operational since 1830, the mill remains active, turning grain into flour, symbolizing the region's bygone days. It provides a peek into the city's past and infuses life into stories of old.
The Old Mill Square, a vibrant nook brimming with assorted shops and inviting food spots, lies next to this historical point of interest. It encourages guests to unwind and leisurely explore its lively environs.
So, whether history fascinates you, you're searching for distinct souvenirs, or you simply want a quiet walk, both the Old Mill and its quaint surrounding area ensure a remarkable visit for all.
Alcatraz East Crime Museum
Alcatraz East Crime Museum, located in the vibrant Pigeon Forge, serves as an absorbing portal into the gripping world of American crime history. Its expansive collection traces the path of crime evolution across the ages, covering numerous aspects of criminality.
Structured into five intriguing galleries, the museum unpacks various crime facets. From the gruesome realities of medieval penalties to the complex workings of today's forensics, the exhibits leave no stone unturned.
Within these halls, visitors find a treasure trove of authentic relics, each with a tale steeped in the darker side of history. The museum takes learning a step further with its interactive exhibits, giving guests a firsthand taste of the sleuthing process, thus creating an engaging and educative visit for all who enter its doors.
The Comedy Barn
The Comedy Barn in Pigeon Forge brings smiles to every face. It's a trusted spot for comedy, catering to all ages. The diverse roster includes magicians with quick hands, brave fire-eaters, nimble jugglers, and laugh-out-loud ventriloquists, filling the night with chuckles.
But Comedy Barn stands out for more than just the variety. It highlights Appalachian humor, allowing audiences to appreciate a slice of regional culture. This engaging blend of comedy and culture makes every visit memorable.
The laughter isn't just for a moment—it echoes through your memories, reminding you of the hilarious heart of Pigeon Forge. Comedy Barn isn't just a venue; it's an experience that leaves you grinning.
Parrot Mountain and Garden of Eden
Deep in Tennessee, Parrot Mountain takes you into a world that feels like a tropical retreat. This home to a spectrum of exotic birds from across the globe promises a distinctive escapade. On passing its entrance, you find yourself amid a riot of colors and the symphony of avian calls.
Far from the regular humdrum of touristy spots, this place offers a serene retreat. You can meander along green trails, interact with friendly parrots, and even have the fun of hand-feeding some of these feathered inhabitants.
The broad range of bird species here enriches the experience, providing countless opportunities for discovery, education, and simple enjoyment of Mother Nature. Parrot Mountain isn't a mere visit; it's a plunge into a world of feathered marvels that'll have you whistling in delight.
Conclusion
Pigeon Forge is bursting with enticing adventures for all. It's a place where the thrill of Dollywood rides, the serene beauty of the Great Smoky Mountains National Park, and the hilarity of the Comedy Barn coexist - every trip guarantees unforgettable moments. So, what's stopping you? Grab your suitcase and come experience the magic firsthand!
---
More to Read: