How can you prepare for a long ride on your horse with family and friends?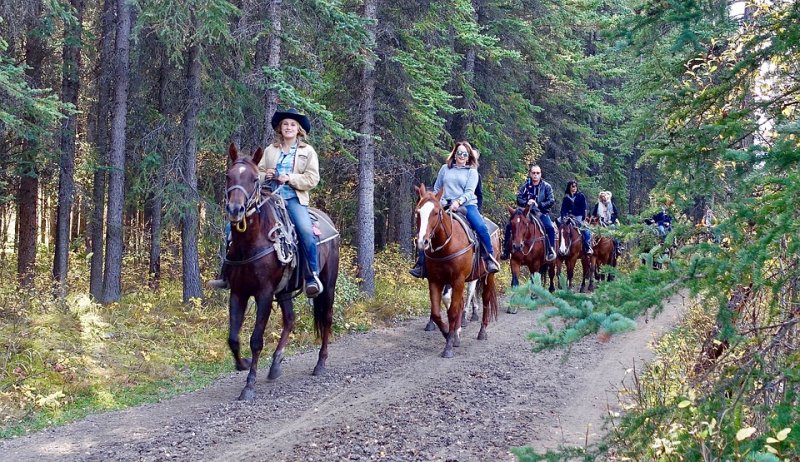 There is no better way to enjoy the sun, the fresh air, serenity of nature and a quiet trail than on horseback. There are hundreds of people who want to go on long rides with their friends and family each season, but it is the lack of experience and knowledge that stops them. Sometimes, all you need is a lot of excitement, a little enthusiasm, and the right guide.
Choosing the horse
Start by picking the right horse for your trail. If you have already traveled with a horse on a long-ish trail and you know each other well, that's great. In case you need to pick a new horse, go with one that is not too big nor too small. Since it is about tenacity and dexterity, pick a native horse. These native horses are stronger, smaller and often need less grazing. This makes them better trail horses than Thoroughbreds.

Always take the horse for a thorough checkup at a professional vet clinic. Get their eyes, feet, heart, and blood checked. Always tell the vet about your plans, so he can understand what kind of fitness the horse needs. Each horse requires special care, diet, medication, and checkup. Horses for races have health requirements very different from trail horses.

Saddle-soars can ruin your trail
What is the biggest enemy of long trails? Saddle-soars of course. Saddles only fit right about 20% of the times. The key is to try out a saddle at least two weeks before the actual trip. The ideal saddle should be light, it should be a snug fit on the horse, and it should be made of natural fiber like wool.
Find the right saddlebag for your gear
Saddlebags pose a different kind of a problem. The old-fashioned ones are quite durable, but they are heavier. The newer ones are lighter, water-proof and need next to no maintenance. These new nylon bags are ideal for a day's trail. If you are spending a weekend or camping for days, choose an old-school leather saddle bag.
How much should you pack?
Most riders start with way more gear than they need. When traveling in groups, you can distribute the responsibility of carrying gears. Tally your lists and crosscheck the items that seem surplus. Your horse will be carrying your weight through that marathon trail along with the weight of your gear. Never ask your pack-horse to carry more than 100 pounds of dead weight for a long ride trail.
When it's time to re-shoe
When you are riding across the United States, finding an experienced farrier to reshoe your horse is no challenge at all. In the US, any person can call themselves a farrier without the required training or experience. Therefore, ask around a little in town, when the time for re-shoeing comes.
Most importantly, do not trust people who post extensively on Twitter or Facebook about their horseback riding experiences. Most of these social influencers may not even have training in horseback riding. Always consult a professional rider, your groomer or people who have been riding in the recent times before you head out.