Explore California's Stunning Beach Getaways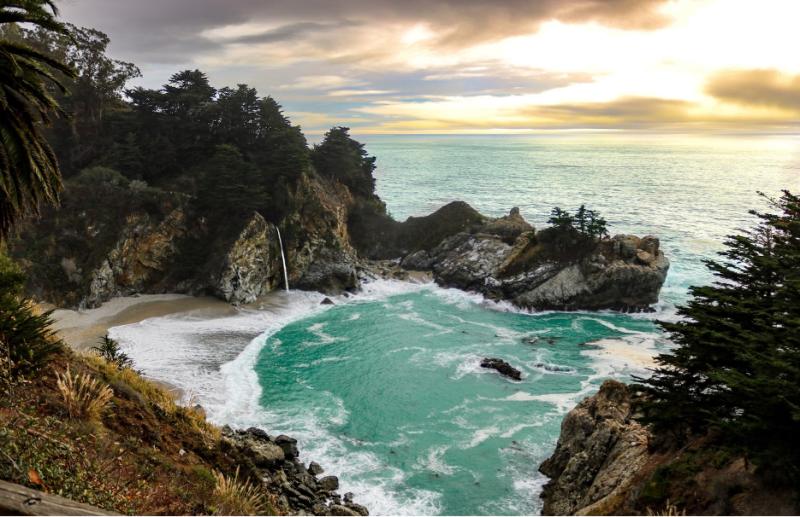 Get ready to immerse yourself in the beauty of California's stunning beach getaways! From the rugged cliffs of Big Sur to the sun-kissed shores of Santa Monica, California offers a diverse range of coastal experiences that will leave you awestruck. So, let's get into exploring your options for the best ones to visit!
Northern California Beaches
Point Reyes National Seashore
Point Reyes National Seashore is a pristine gem awaiting your exploration. With its rugged cliffs, pristine sand, and a variety of unique wildlife, Point Reyes offers an unforgettable experience for nature enthusiasts and adventure seekers alike. You can hike the scenic trails, visit the iconic Point Reyes Lighthouse, and even spot migrating gray whales. The park also features charming picnic areas and opportunities for birdwatching, making it perfect for a day trip. And for a more immersive experience, you can even look into rentals to settle in and take your time exploring!
Mendocino Coast
The Mendocino Coast beckons as one of California's stunning beach getaways. This coastal stretch boasts rugged cliffs and charming coastal towns that will capture your heart. So, stroll through Mendocino Village, known for its quaint shops and art galleries. Or you can explore the dramatic landscapes of Mendocino Headlands State Park! The Glass Beach, adorned with polished sea glass, is also a unique sight to behold. Furthermore, hiking and nature enthusiasts will find solace in the lush forests of the Russian Gulch State Park and the otherworldly beauty of the Fern Canyon.
San Francisco Bay Area Beaches
Baker Beach
Baker Beach, a beloved destination in San Francisco, offers more than just a typical experience. With its iconic view of the Golden Gate Bridge and family-friendly atmosphere, it's a must-visit spot for everyone. You can relax on the sandy shores, build sandcastles with the kids, or take a leisurely stroll along the coastline. This location also provides excellent opportunities for picnics and volleyball. Plus, the proximity to San Francisco means you can engage with packing experts to make your prep easier! They can help you organize your trip essentials, ensuring a stress-free outing.
Half Moon Bay
Half Moon Bay is another of California's stunning beach getaways. This idyllic coastal town is known for its vibrant community and beautiful scenery. Visitors can explore the enchanting tide pools at Fitzgerald Marine Reserve, take a scenic drive along the Pacific Coast Highway, or visit the historic Pillar Point Harbor to watch fishing boats. Half Moon Bay also hosts the annual Pumpkin Festival, attracting thousands of visitors with its pumpkin-themed festivities and giant pumpkin weigh-off competition. Furthermore, if you're a nature enthusiast, you'll find solace in the area's numerous hiking trails and birdwatching opportunities. So, with a welcoming small-town atmosphere and lots of cozy inns and accommodations, Half Moon Bay is the perfect coastal!
Central California Beaches
Big Sur
Big Sur, a breathtaking stretch of California's coastline, is a true natural wonder that captivates all who visit. This rugged paradise boasts dramatic cliffs, lush redwood forests, and unparalleled vistas of the Pacific Ocean. A drive along the iconic Highway 1 offers jaw-dropping panoramas, including the famous Bixby Creek Bridge and McWay Falls, a stunning waterfall. Adventurous souls can also explore the numerous hiking trails that lead to hidden coves and overlooks. With camping options amidst the redwoods and the soothing sound of the waves, it's an outdoor enthusiast's dream! Besides, don't forget to stop by the Nepenthe Restaurant for breathtaking views and delectable cuisine. Big Sur's natural beauty and serenity make it a sanctuary for artists, writers, and those seeking a peaceful escape.
Pismo Beach
Pismo Beach promises a classic California beach town experience with a twist, especially if you enjoy exploring off the beaten path. Known for its sandy shores and welcoming atmosphere, it also offers unique adventures. You can hop on a dune buggy and traverse the mesmerizing Oceano Dunes, a unique coastal sand dune playground. Or for a more tranquil experience, you can visit the Monarch Butterfly Grove, where thousands of butterflies gather during their migration. The charming downtown area also boasts boutique shops and restaurants serving up fresh seafood and local wines. Additionally, don't miss the annual Clam Festival for a taste of local flavors. The diverse local attractions, from thrilling dune rides to serene butterfly watching, make it an ideal destination for those seeking a blend of adventure and relaxation!
Southern California Beaches
Santa Monica Beach
Santa Monica Beach is one of the most beautiful California's stunning beach getaways. With its iconic Santa Monica Pier, bustling boardwalk, and pristine sandy expanses, it's a quintessential California experience. Families can enjoy the amusement park and aquarium on the pier, while others can bask in the warm sun and swim in the Pacific's refreshing waters. The beachfront offers an array of dining and shopping options, making it easy to grab a snack or souvenir. However, if you want to spend a carefree day at the beach, goodneighborsmoving.com do recommend looking into the storage units in the area for your valuables. These storage solutions ensure your belongings remain safe while you soak up the sun and surf!
La Jolla Cove
Nestled along the coastline of San Diego, La Jolla Cove is a coastal jewel renowned for its breathtaking natural beauty. With its crystal-clear waters and abundant marine life, it's a haven for snorkelers, swimmers, and kayakers. The cove is home to a vibrant underwater world, including colorful fish and playful sea lions. Snorkeling amidst these gentle creatures is an unforgettable experience. You can also explore the nearby caves, like the famous Sunny Jim Cave, accessible by kayak or guided tours. Scenic coastal walks offer panoramic views of the Pacific, making it ideal for a leisurely stroll. Plus, the inviting atmosphere of the surrounding village, filled with art galleries and gourmet restaurants, adds to the charm.
San Diego Beaches
Coronado Beach
Coronado Beach, just a stone's throw away from San Diego, offers an idyllic escape that will leave you enchanted. With its pristine sandy shores and the historic Hotel del Coronado as a backdrop, it's the perfect setting for a getaway. The postcard-worthy sunsets and warm, inviting atmosphere make it a beloved destination for couples, families, and solo travelers alike. Whether you're relaxing by the water, swimming in the gentle waves, or enjoying a picnic, Coronado Beach has something for everyone. To organize the best trip, consider booking a stay at the iconic Hotel del Coronado or one of the charming nearby inns.
Mission Beach
Mission Beach offers a vibrant and action-packed coastal experience like no other. With its iconic boardwalk and lively atmosphere, it's a playground for those seeking fun in the sun. You can spend your day riding roller coasters and playing carnival games at Belmont Park, or simply relax on the expansive sandy beach. If you're a thrill-seeker, you can try your hand at water sports like surfing and parasailing. The beach is also perfect for volleyball enthusiasts with designated courts. Meanwhile, families will appreciate the amusement park and entertainment options for kids. However, if you prefer a leisurely pace, take a scenic bike ride along the oceanfront promenade. With its myriad of dining options and attractions, this location promises a dynamic and exciting coastal adventure that caters to all ages and interests!
Exploring everything California's getaways have to offer
As we wrap up our journey through California's stunning beach getaways, we hope you've been inspired to plan your next coastal escape. From the tranquil coves of La Jolla to the vibrant energy of Mission Beach, California's coastline offers a wealth of experiences waiting to be discovered. So, take your time making plans, and make the most of your trip to this wonderful state!
---
More to Read: